So the party will be a success! Make every children's party or birthday party an unforgettable experience with a celebration in the Praterfee.
Do you have any questions?
Contact us at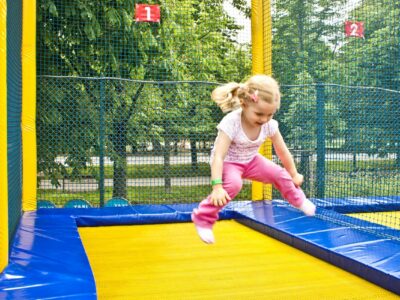 22 trampolines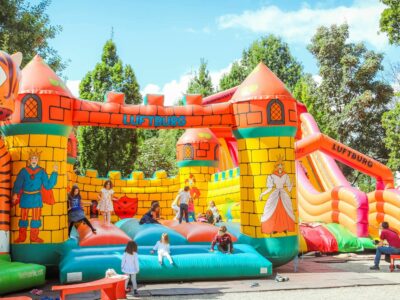 air castles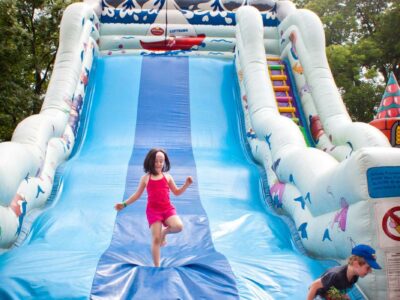 Luftburg Slide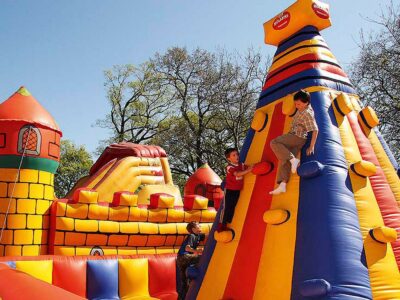 Luftburg climbing tower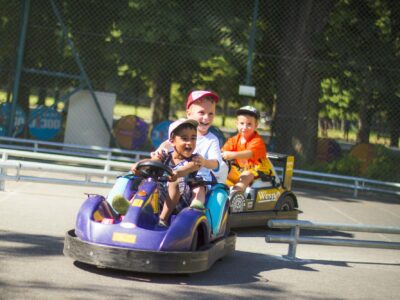 children's motorway
stick sports track
Are you looking for the ideal venue for your children's birthday party? Save yourself tedious planning and organizing or the question of the children: "And what do we play next?". The Praterfee in Vienna offers everything a child's heart desires.
Book now our party package in the Praterfee. So every celebration or every children's birthday party becomes a unique experience.
Games - fun - a wide range - food & drink - create a good atmosphere!
For questions please contact our team! We are looking forward to your inquiry!
In the Praterfee, right next to the Luftburgen, there is a cheerfully set children's birthday table and an adult table for 6 accompanying persons. Table reservation for 3 hours from 11:30 or 15 o'clock.
Organic

Food &

Organic

Drink
For each child there is chicken schnitzel baked or vegetarian spelt earth dumplings and for all children chips with ketchup. In addition 2 litres each of apple juice, water & raspberry soda.
Homemade Sacher cake with spray candle
Painting templates and crayons are ready to hand
Play and romp to your heart's content on the original Luftburgen and Luftburg slides.
Trampoline & Motorway for children
20 tokens to be redeemed for the trampoline each 8 minutes and the children's motorway each 4 minutes
Paper crown for the birthday child
Make-up for children 3 years and older
Each child is artistically made up, whether tiger, butterfly or pirate
€ 58.00 all-inclusive, from the 11th child € 5.80 each
Pony riding from 2 years, duration approx. 30 minutes
Riding fun with a pony on the Prater Hauptallee
€ 50,00 per pony, from the 11th child 2 ponies necessary
Address:
Prater 121, on Hauptallee,
1020 Vienna
Opening hours:
Only in fair
weather from March - November
The party package can be booked daily in good weather for 11:30 & 15:00 hours. Other times on request and subject to availability.

Duration of the party: 3 hours each.

Uncertain weather forecast? The party can be cancelled free of charge up to 24 hours in advance.
The entire party package (minimum booking):
for up to 10 children: € 220,-
For each additional child: € 22,-
Prices in Euro, incl. all taxes and duties.
Individual cakes give your party a personal touch and are well received by your guests. At Kolarik you can order cakes, cupcakes and cakepops for birthdays, weddings, baby parties, children's birthdays, company celebrations, christenings, first communions, graduations and other occasions.
You also have the possibility to create your own invitation to the children's party or birthday party for all your friends in the Praterfee.
for children's party companions,
to be ordered in advance
Stilt package for 4 persons or more

€92

2 x medium crispy surrounds grill wagtail with mustard & horseradish, bread, cabbage salad

Vienna package from 4 persons

€74

2x pork schnitzel with french fries & ketchup 2x fried chicken with potato salad

Vegetarian per person

€9,80

Spelt potato loaf on leaf salad with yoghurt-herbs sauce

Snack package for 4 persons or more

€18,60

2x stilt pretzels 2x potato pancakes with garlic